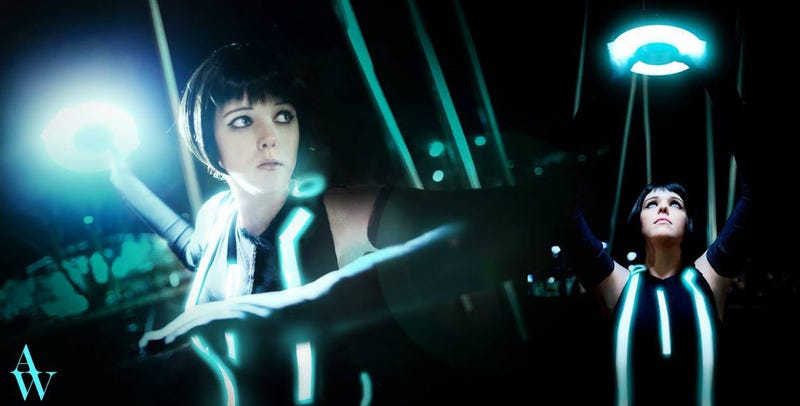 If you're looking for a great and easy way to make your costumes and props glow on the go, this is probably the droid you're looking for. Recently I started on my first light-up costume, and thought I'd put together a beginner's guide of what I've read and learned so far for anyone else who's thinking of starting out on a similar project.
Note: While EL wire is one of the safest lighting options available to us as artists, safety is always a concern when electricity's involved. Exercise discretion and err on the side of caution, read the instructions that come with your purchases, and if you want to do the thing DON'T DO THE THING.
What is EL Wire?
EL wire is an electroluminescent wire made of semiconducting materials that glows when an AC signal is applied to it. It was first invented in 1936 by Georges Destriau, and since then it's evolved dramatically into a prop-lighting super-resource of sorts. It's "cold" (more on that below), it can be cut to size, it's waterproof, it's very flexible, and keeps its shape (you can curl it around your finger), which makes it very versatile for cosplay and prop-making, especially with moving parts. It's not as bright as LEDs, but also uses a lot less power, granting it a greater battery life. Plus it's pretty affordable.
Rather than heating an element to achieve an optimal phenomenon, EL wire's glow comes from sending an electrical current through itself; the flow of electrons creates photons, which result in the visible glow. This lack of heat generation means EL wire is cool enough to touch and wear even when lit for hours.
Its structure centres on a stiff, solid copper core, which acts as a conductor for the flow of electrons. The entire core is coated in a phosphor lubricant, which is the key to EL wire's illumination. Phosphorescent and fluorescent materials light up without heat (the phenomenon of luminescence), which is why they are used in CRTs, glow toys, and plasma screens. This phosphor-coated core is then coiled around by its corona – two very thin copper wires entertwined into one long strand – creating a layered unit. To protect this unit from damage it is coated in two PVC sheaths. The first layer is a thin, and lightweight clear sleeve that acts as a protective barrier. The second PVC layer is usually tinted to grant it a specific colour, but also provides an additional layer of protection and – if variegated – can give the illusion of texture. You can read more about how EL wire works here.